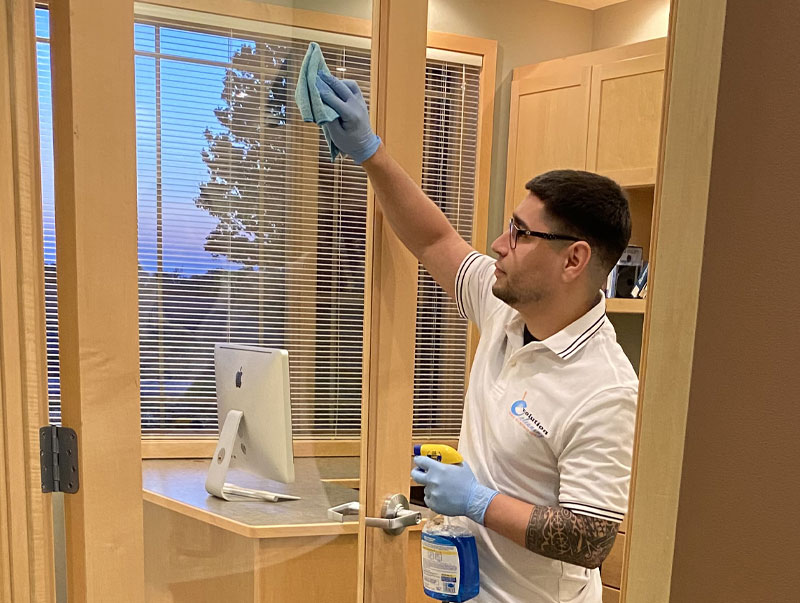 Evolution Cleaning is a commercial cleaning company that prides itself on consistently doing a thorough job cleaning – no matter what the particular task may be.

We know how great it feels to work in a clean environment, and for the past 15 years we have been cleaning businesses for our clients in and around the Madison, WI area.
Our clients trust us with all their cleaning needs because:
We are trained technicians - Our technicians are commercial cleaning professionals trained to use specialty cleaning equipment and commercial grade cleaning products. With Evolution Cleaning, you can feel confident that your business is protected against germs and infection. Our team knows of technicians are equipped with commercial cleaning and industry knowledge to get the job done skillfully.
We offer satisfaction guaranteed services - We hold our commercial cleaning service to the highest standard and pay close attention to detail. Evolution Cleaning uses best practices and do the dirty work, while you focus on what's important to your business.
We have environmentally friendly cleaning products - Our products are formulated especially for deep-cleaning with effective bacteria-fighting agents to ensure that your staff's and visitor's well-being is protected. We believe that a clean facility and high-quality cleaning products are a way to show you care.
We have convenient scheduling - We want to make it easy for you to commit to cleanliness. Give us a call or fill out a contact form to get in touch with our cleaning team. We will work to find a time that works best for you to discuss your needs, our capabilities, and create a customized cleaning program for you.